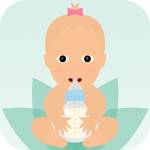 Maternity emojis is a collection of 70+ stickers about pregnancy, birth and life with babies. Share your emotions with your friends and family.
And congratulations to all moms and dads!
Compatible with all messaging applications and iMessage stickers.
Included: sticker pack for iOS 10 and more recent, and a custom keyboard for older version of iOS. Check the installation instructions in the app.
More emojis will be added.
Some emojis are missing? Feel free to submit your ideas at contact@wemoji.fr and we'll add a new set for the next app update.